*** And the Winner is...***

One Mommy's View Point!

she said...
"Hey there! I so want to see this movie as a girl's night with everyone!!! Wouldn't that be fun? And maybe I'll be sporting a hoodie! (hee hee hee)"
Congratulations! I will be emailing you!


I recently got the
movie soundtrack
for He's Just Not That Into You.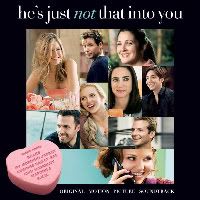 One of the reasons I like movie soundstracks in general is the selection of music on one CD. I have to be honest with you and confess that I really don't listen to a lot of secular music and was pleasantly surprised with myself that I actually recognized a few of the artists on this soundtrack! It has a great variety of artists including R.E.M, Maroon 5, Scarlett Johansson and others. The first time I listened to it I just kinda skimmed through the songs but then later listened to the CD in it's entirety and really enjoyed it!
I have yet to see the movie He Just Not That Into You, listening to the soundtrack that was released at the beginning of this month got me all jazzed up to go see it. Hey, come to think of it I just may be planning a girls night in the very near future. Or, maybe I can convince my hubby to take me on a date! Either way I look forward to seeing it soon. But for the time being I suppose that I should be content with this fun, upbeat soundtrack!
Okay, so here's the good news! I have a copy of the
soundtrack to the movie
and a hoodie to giveaway to one of my lucky readers!
HOW TO ENTER:
Leave me a comment saying hi and your email address (so that I have a way to contact you if you win) by March 3rd, that's it!

For additional entries:
Send out a tweet on Twitter, follow my blog, enter daily (Leave me a separate comment for each additional entry)